Our story begins with my daughter begging us for a dog. When we finally gave in to her pleading and decided to find a dog, I wanted to get the right one for us. I was raised with many different breeds and knew what attributes I did and did not want the dog to have. After researching the different breeds, I chose the German Shepherd as the dog that fit our needs and family. Boy was I right!!
Our first German Shepherd was a beautiful, faithful, smart and obedient boy that was quite shy. His breeder encouraged me to take obedience classes with him to help increase his confidence. I did and discovered out how intelligent and willing to please these dogs are---- I was hooked!! I have been involved in the breed for 18 years now and I still feel the same. I LOVE this breed and LOVE teaching them!! No other breed of dog will love and serve you as a German Shepherd- and not to mention they are beautiful and magestic- with the "look of eagles"!!
Rock Solid German Shepherds is located on 12 beautiful wooded acres in Stillwater NJ, with over 6 acres fenced in for the dogs to romp and play. My husband is a Mason Contractor- hence the name "Rock Solid". I have been blessed with a husband who is very patient with me, understands my passion and supports my goals!! Thanks Bill- I love you and cannot do this without you!!
My breeding program is dedicated to improving the breed - using the breed standard as my blueprint. I will not compromise temperament or health for any reason. Much care and research preceeds each litter to ensure the quality of the puppies. Only the finest American and German lines are utilized. After the puppies are born they are extensively socialized with people and children and exposed to many household sights and sounds to ensure your puppy gets the best start possible. The puppies are temperament tested to help place the right personality with the right family. The care received doesn't stop once you take your puppy home. We have available at Rock Solid German Shepherds our Head Start Puppy Program to help you with your new family member. Click on the Head Start button for more information about this exciting and rewarding program. Because of the commitment to your satisfaction and our puppies well being, I am also available for the life of your puppy for any help you may need. Many puppy buyers have remained in contact with me over the years and many friendships have developed. Quite a few have returned for a second puppy with some waiting for their third!!!
You will find Rock Solid German Shepherds working in different venues whether it is loving and protecting your family, competing in dog sports, searching for drugs or lost people, or comforting the sick in hospitals. Our breed can do anything! I am commited to protect and develop these abilities in future generations of puppies.
People desire a German Shepherd for many different reasons. Whatever your reason is, I am sure you will find a puppy here that fits your needs. Please enjoy our website and don't hesitate to contact me- I will be happy to talk Shepherds with you!!
Excellence of quality - with personal care and attention-- that is the Rock Solid difference!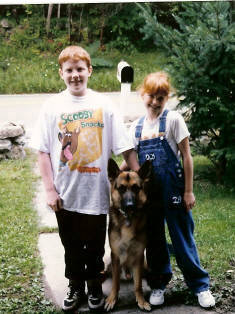 Our first German Shepherd "Trooper" with our children

Rock Solid German Shepherds
Bill and Linda Phillips
Stillwater, NJ
MEMBER OF THE GERMAN SHEPHERD DOG CLUB OF AMERICA FOR OVER 10 YEARS

ALSO A MEMBER OF GSDCA PUBLIC RELATIONS/MEET THE BREEDS COMMITTEE (2010)
CLICK HERE TO VIEW OUR FACILITIES