Here is what some people have to say about their
Rock Solid German Shepherd:
"Kenai has proven the truths about the GSD- her intelligence and loyalty are superior! Kenai is a beautiful GSD, friendly to other dogs, people, small children, and loves the 3 cats-who are also a part of our family. It is beyond rewarding to see Kenai and my 6-year old son play together."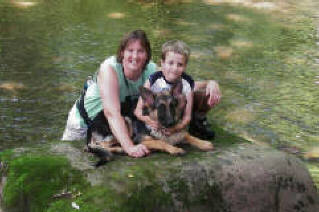 " Having Kelsey is like having another daughter. She is truly our love, our protector and a part of our family. Kelsey is extremely loyal and protective over all three of our family members. As much as she is protective, she is just as loving. Kelsey loves to cuddle, have belly rubs, give kisses. And very smart at figuring out how to pull at Daddy's heart strings to get what she wants (usually playing ball).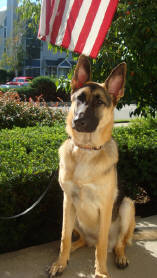 "It is such a wonderful feeling coming home from work to be greeted by these loving dogs that voice like you've been away for months. They are cheerful, obedient and eager to please. Even though they have a strong protective instinct, we have extensively socialized them since they were puppies and are excellent with other people and animals. Our dogs are so loved, they know it and show it in their attitude, health and well being. To mention their breeder, Linda Phillips of Rock Solid German Shepherds: She is the most caring, knowledgeable, conscientious, and hard working person you will find when you're looking for a German Shepherd."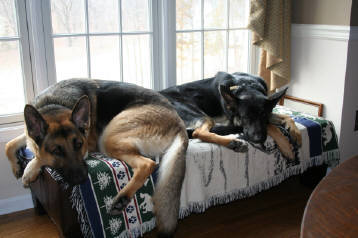 "Sammie is by far the smartest dog I have ever owned and always tries 110% to please. Training him the basics was so easy for him, he learned each task within a day and continued practice. I was shocked how fast he was picking up on it all. Sammie is one of the friendliest dogs I have ever owned; he loves everyone he meets, humans and other dogs. It is so amazing how gentle he gets when he is playing with a small child or small breed dog. He loves swimming and playing ball, which he will do for hours if you wanted to and absolutely loves car rides!"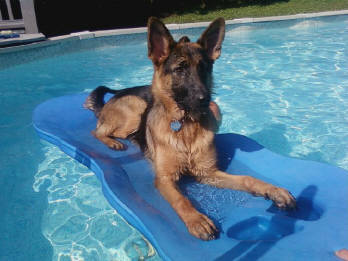 "Rex is truly our best friend. When asked about describing Rex, personality comes to mind. His disposition is phenomenal and different for each family member and each visitor who comes to our house (let me tell you we have a lot of visitors).
For me, when I work from home, his companionship helps me get through each day with positive energy. He's always by my side and we get through the days together. My best friend.
For my wife, what can I say? Rex is her sidekick. Wherever she goes, he goes. They are inseparable.
For my son, Rex and he are growing up together. They are forming that special bond that happens at this time in their lives. What a great joy to see.
For visitors, Rex can easily adapt between adult and small children. For a big dog, he's very gentle with toddlers.
Our family line with Rex, He's the best!"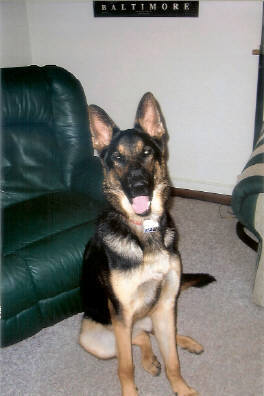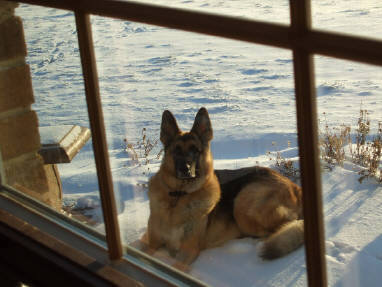 "My wife is 72 and I am 73 years old. Ruff has brightened our lives and helps to keep us active. He loves to go on walks with us, loves to run and retrieve tennis balls. He is a familiar sight in our neighborhood as he sits in the passenger seat of my pickup truck on all trips to the bank, post office, grocery stores etc. He also loves riding in our motor home on all camping trips or wintering in Florida (the leather J-lounge is his!!). He never gets car sick or bored during trips.
Since the beginning, he has given us all his attention, affection and love. He also provides security, we feel very safe with him at our side when traveling or at home."

"Ed and I thought we'd send you a few updated pictures of our "girls". Five years later, they have become so much a part of our family that we can't imagine life without them. We walk them around the neighborhood every day and almost every day, someone stops their car to tell us how beautiful our dogs are! They truly are our babies!"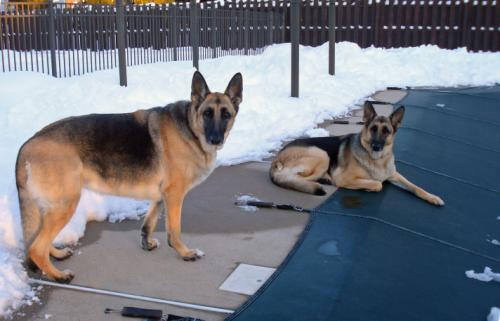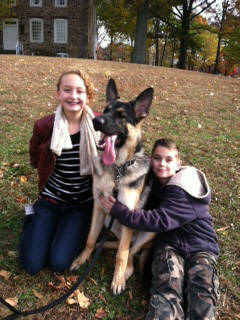 "Just got your Christmas card. Hoping you got ours. Sarge is great! He graduated from obedience 1 and should get his CGC by Feb. He is a big boy (94 pounds and counting) lean and active. He is so smart. Everyone loves him. And yes the xmas tree is still standing. Not bad for an 8 month old..."